Call the Midwife Season 6, Episode 3 GIF Recap
Last Updated by
Catch up on Episode 3 of Call the Midwife. Warning: Spoilers ahead.
This week on Call the Midwife, the house is in disarray as a mysterious illness threatens the life of a mother and her newborn, and a vital health facility for Poplar's expectant mothers faces closure. With both Patsy and Sister Mary Cynthia's recent departures, the women must now face these unforeseen challenges on top of their routine appointments and with limited staff. Oh, and let's not forget that this is all under the critical eye of Sister Ursula. Phew. Can someone get these ladies a drink?
1. Saving the Maternity Home
The times are a-changin' and things are looking grim for our dear Nonnatans. Dr. Turner, this week's bearer of bad news (Sister Ursula had to pass the torch at some point), attends a meeting at the Board of Health, where he learns about a new proposal to shut down maternity homes across England. And of course, why not start with Poplar? In favor of more women delivering at general hospitals, the Board decides to send one of their inspectors, Mr. Enoch Powell, to Dr. Turner's maternity home. But they won't wave that white flag just yet.
2. Déjà vu
The drama has just begun! So why not keep going? During last week's episode, Sister Ursula introduced a new rule, which prevented the midwives from taking informal appointments with their patients. Despite the criticism she received, including an ugly spat with Patsy, she brushes off the haters (who needs friends anyway?) and makes yet another change to the Nonnatus House workflow. Testing the midwives' patience, she imposes a 20-minute time limit to the midwives' antenatal, postnatal and district calls. Burning bridges everywhere, Urs.
3. Sister Ursula's Background Revealed
A vocal opponent of this change, Nurse Crane pulls Sister Julienne aside to express her discontent with the way Sister Ursula has been using her authority. With no little birdies around to listen in, Sister Julienne finally spills the tea in an attempt to be supportive of their new leader. She reveals that Sister Ursula wasn't doing so well at her last gig with the Order's cottage hospital and blamed herself when it was shut down for inefficient practice. The structure. The grumps. It all makes sense now!
4. Fighting Words
Unfortunately, Sister Julienne's efforts to convince Nurse Crane to empathize with Sister Ursula were futile. Since our gal Ursula has a natural ability to make enemies, she immediately loses any cool points she could have had when she calls Barbara a slacker for being late to dinner. In reality, Barbara was late because she had to check on a family around dinner time due to Ursula's draconian rules. Can't win!
5. Carbon Monoxide Poisoning
However, since karma is real and we should all be afraid of it, Sister Ursula's 20-minute system later backfires in the worst way. After Barbara has to cut short a check-in with one of her patients, Lucy Chen, things take a turn for the worst when Lucy wakes up from a much-needed mom nap to her unresponsive baby. She and her mother-in-law Oilen rush baby Lin to the maternity home where Dr. Turner performs a quick run-through of Lucy's symptoms during her earlier appointment with Barbara. From this and the child's physical appearance, he's able to diagnose the baby with carbon monoxide poisoning. Though it's not such a great workday for Barbara, Mr. Powell witnesses Dr. Turner and Shelagh's quick reactions to the Chen family's emergency during his inspection. Unfortunately, he later admits to Nurse Crane that while the maternity home won't be recommended for immediate closure, it will likely be shut down in the near future regardless.
6. Barbara Blames Herself
After a close call with the Chen family, Barbara blames herself for missing the signs that could have prevented baby Lin's near-death experience. Thankfully, Nonnatus House den mother Shelagh steps in, faulting Sister Ursula's new rule for Barbara's inability to catch the hazard. Amen to that.
7. Guess Who's Back?
Poor Trixie has no idea what she's walking into... but hooray, she's back! Finally returning to Nonnatus House from her prolonged stay in South Africa, Trixie receives a solemn greeting from Nurse Crane and immediate phone duty. Nothing says "welcome home" like "man the phone!"
8. A Traumatic Event Unfolds for the Turners 
From one mother to the next, Shelagh is now at the center of her own crisis. After caring for Lucy and Lin at the maternity home, she begins to experience abdominal pain and shortly discovers that she has started spotting. Fearing that she might be miscarrying, she rushes to the hospital with Dr. Turner by her side.
9. Nurse Crane's Heart-to-Heart with Sister Ursula
Staying behind to finish the inspection with Mr. Powell, Nurse Crane eventually drops in on Sister Ursula to tell her about Lin's status. She argues that while 20 minutes for prenatal and postnatal care might be standard for a hospital setting, it is not long enough for district practice where extra care and attention might be required in a Poplar residence. Preach!
10. Tin (Wo)man No More
After Nurse Crane breaks down her armor, Sister Ursula eventually realizes the error of her ways. Apologizing to Barbara, Sister Ursula explains that she has decided to put the 20-minute appointment system on hold for further review. Being the kind person she is, Barbara accepts Sister Ursula's apology, but by the look on her face it's still unlikely that they'll ever be buddies. Let's not get crazy here.
11. Prayers for Sister Ursula 
Later however, Sister Julienne notices Sister Ursula's absence from dinner and joins her in the Nonnatus House chapel where she's praying. Sister Ursula admits that after a failed attempt at running the Order's cottage hospital, she had used Nonnatus House as a chance at redemption, believing that her presence was a gift to them.
12. A Clean Slate
Baby Lin turns out OK, but Ursula can't recover. She decides to leave Nonnatus House and places Sister Julienne back in charge. Even after committing a cardinal sin by taking Sister Monica Joan's candy, Sister Ursula is able to reconcile with her before her departure. Sister Monica Joan sends her away with a sticky bun for her travels home, and because sharing food is a sign of a great friendship, Sister Ursula clearly receives her stamp of approval.
Ursula's out; Trixie's back, and Shelagh's wellbeing is unknown. On top of it all, Nonnatus House is still down several staff. The drama is on! Tune in next week at 8/7c and don't forget to catch up with previous episodes here. Read more gif recaps here.
Explore This Episode
Barbara Gilbert is in her early twenties and has just qualified as a nurse and midwife.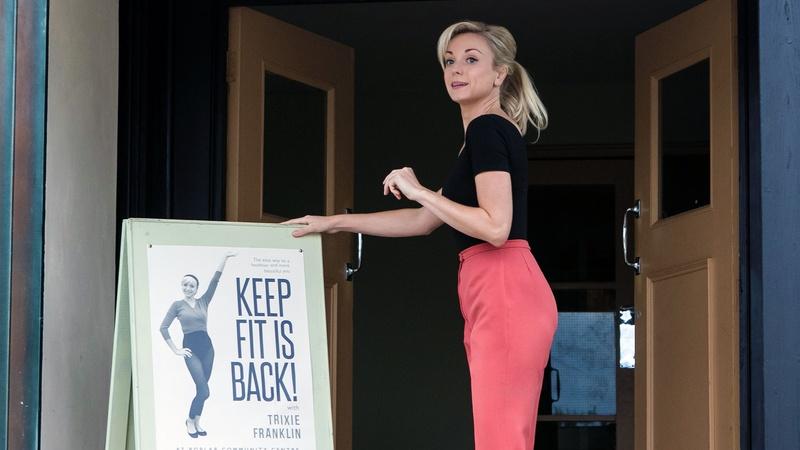 The cast and crew discuss what changes 1962 brings to Call the Midwife.