Call the Midwife Season 7, Episode 1 GIF Recap
Last Updated by
Catch up on the Season 7 premiere of Call the Midwife. Warning: spoilers ahead.
We made it, friends. It's been a long, grueling year but — drum roll, please — "Call the Midwife" is back for Season 7, baby! While it's only been a few months since our brief catch-up with the midwives during the 2017 Holiday Special, we were already beginning to miss Vanessa Redgrave's soothing narration and the light, airy string music of Peter Salem's intro song. Oh, and let us not forget that familiar chiming of the Nonnatus House bicycles that we've all grown to love — music to our ears.
Last season, "Call the Midwife" tugged at our heartstrings as the midwives dealt with traumatic deliveries, grappled with domestic abuse cases and witnessed a fiery, workplace explosion. As if things couldn't get any worse (but in this show they always can), fear was consuming England as an ensuing political battle between the U.S. and the Soviet Union led to the Cuban missile crisis. Spoiler for this episode and general world history: Everyone was fine and nuclear war was averted.
In true "Call the Midwife" fashion, many episodes left us sitting in a puddle of tears, but for every challenge the women faced, they were often times greeted with welcome news to balance out the scale. Shelagh and Dr. Turner brought a baby boy into the world, Barbara and Tom finally got hitched, and while we said our goodbyes to some "Midwife" favorites, we also said hello to new — and just like that, a new year is upon us. So settle in and pour yourself a cuppa as we plunge head first into our Episode 1 recap.
1. Welcome to the Team, Lucille
When we last saw the midwives during Season 6, the Nonnatus House staff began to dwindle as many of the midwives set upon new chapters in their lives. Sister Mary Cynthia left Nonnatus House to reside with the Northfield community, Barbara joined Tom for a temporary assignment in Birmingham, and Patsy and Delia have taken their romance to Botswana. (Note to self: Do not get too attached to any of the midwives, because they will pull you in and leave you. It's fine, we're not bitter about it or anything.)
So with a handful of empty bicycle seats and pregnancies abounding, the remaining midwives have had their hands full while waiting for Lucille Anderson, a former librarian-turned-midwife, to arrive. Yet when a nasty snowstorm sweeps through England and Lucille's train is delayed, the midwives grow concerned over her arrival and question whether they'll have to phone the police. Well, not too worried considering they still eat her welcome cake. ¯\_(ツ)_/¯
2. A Struggling Single Mother
Hoping that extra hands will arrive soon (and ideally not frostbitten), the Nonnatus House midwives carry on with their duties and Trixie meets with her new patient Nadine. Having made a meager wage as an exotic dancer, Nadine found it difficult to hide her pregnancy and was eventually forced to leave her job. Living in impoverished Poplar without family support or money, and not knowing the whereabouts of her child's father, Nadine reveals to Trixie that she has considered giving her child up for adoption.
3. Sister Winifred's Driving Saga Continues
Elsewhere in Poplar, Sister Winifred continues to brush up on her driving skills in an effort to cut down her commute time to work (#same) and likely after discovering the discomfort of riding a bike in a dress. As our "Call the Midwife" fans might recall during Season 6, our enthusiastic midwife initially took up driving lessons with Nurse Crane as her instructor, but a car accident involving both women put everything on hold. With time to recover from the emotional distress, Sister Winifred suddenly finds herself shifting into high gear (hah, get it?) when she receives word that her driver's test will be in two weeks. Sending prayers to all of our Poplar drivers.
4. Coping with Illness
When Nurse Crane isn't busy clutching the dashboard and saying her Hail Marys as Sister Winifred's passenger, she and Dr. Turner have started caring for an ailing elderly woman, Mrs. Gelin. A longtime Poplar resident, she has been battling cancer and lung and liver metastases. As her condition worsens, however, she finds herself in the middle of a family feud. She refuses to leave her home, both ignoring her daughter's plea to relocate to her home and the city council's notice to demolish the buildings in their neighborhood.
5. Trixie Takes Her Relationship to the Next Level
A helpful distraction from the stress at work, Trixie returns to Nonnatus House for a play date with Mr. Dockerill's daughter, Alexandra. As we saw last season, the pair shared a pleasant first encounter with one another, and Trixie won her affections with makeup tips and sweets over lunch. Though the two continue to bond, Trixie worries about her reputation with Christopher's ex-wife after learning that she's been using some unsavory language about Trixie around Alexandra. Though Christopher dismisses his ex-wife's comments, he implies that her feelings may have surfaced surrounding Trixie and Christopher's plans for a ski trip together over the holidays. Naturally, he couldn't care less about what she thinks and implies he still wants to travel with Trixie so they can finally be alone together. A little après-ski on the mind, Mr. Dockerill?
6. Don't Panic, Lucille Made It
After walking barefoot through the snow and uphill both ways (just kidding — but she probably should invest in a heavier winter coat), Lucille finally arrives at Nonnatus House with a scraped knee and without her belongings. On the bright side, she didn't get lost in the snow and become a human ice sculpture. Despite the trek, Lucille expresses her eagerness to work and is the first midwife ready for calls the next morning. As she soon learns, however, her body appears to have its own plans for the day, and what begins as a fever turns out to be a full-blown bladder infection. Forced to stay home to recuperate, Lucille takes time to settle in and tries to connect with Sister Monica Joan.  
7. No Days Off
Psych! No sick days here, ladies. Bladder infection or not, a bedridden Lucille is rushed to her first call after a case of undiagnosed twins forces Valerie to meet up with Sister Julienne in a different part of town. Lucille travels to Nadine's flat where she assists Trixie with a breech birth. It's fine. It's casual. Nursing an infection and delivering a baby on your first day of work? Where do I sign up? However, teamwork makes the dream work, as always, and with the help of her new colleague, Trixie is able to deliver Nadine's baby girl.
8. Nurse Crane's Plea 
Back at the Gelin residence, Nurse Crane faces a new challenge when city workers begin demolition and cut down the neighborhood telephone wire, Ruth Gelin's only form of communication with her son in America. Sergeant Woolf comes a-knocking at the door to notify the family of their eviction but soon learns that he's walked straight into the lions' den when Nurse Crane answers and gives him a hard no to that nonsense.
Left in peace for the time being, Arnold Gelin and Hilary sit with Ruth during her last moments. Arnold expresses his love and gratitude for his wife in a poetic way that'll make even the unemotional ugly cry. On a scale of "Titanic" to "The Notebook," this is definitely up there. After Ruth's passing, the council workers, Sergeant Woolf, Nurse Crane and Ruth's family and friends gather in the neighborhood for her funeral.
9. Nadine Has a Change of Heart
Post-delivery, Trixie checks in on Nadine who is waiting for her daughter to be discharged from the hospital where doctors are performing a blood transfusion on her. In a surprise twist, Trixie learns that Nadine has decided to keep her baby, who she has named Elizabeth, realizing that she was the missing puzzle piece necessary to make her feel whole again. She decides to find a new job and takes over management at a local dance school to build a better life for herself and Elizabeth.
Not the only person with uplifting life news (because why not keep these #goodvibes rolling, am I right?), Sister Winifred passes her driving test, Trixie finally goes on her overdue trip with Christopher, Nurse Crane makes peace with Sergeant Woolf, and Lucille has officially become part of the crew.
Forgot how we got here? Catch up with our Season 6 GIF recaps. And don't miss our modern take on "Call the Midwife": The Modern Midwives Blog.
Lucille is open-hearted, gregarious, determined to succeed, and has a great sense of fun.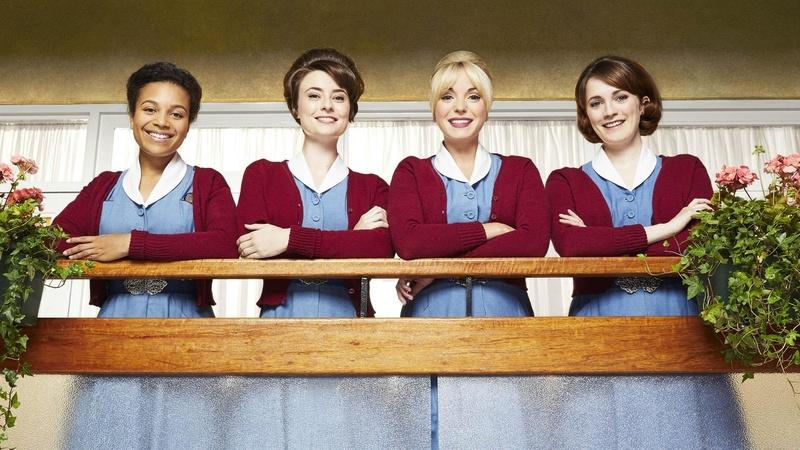 Nonnatus House welcomes its newest midwife, Lucille Anderson, to start 1963.