Call the Midwife Season 7, Episode 6 GIF Recap
Last Updated by
Catch up on Season 7, Episode 6 of Call the Midwife. Warning: Spoilers ahead.
One week does not seem like nearly enough time to recover from an episode of "Call the Midwife," but here we are, still teary-eyed and emotionally unprepared as always. Last week was a wild ride as the show explored tokophobia, otherwise known as a fear of pregnancy, and exposed the midwives to the panic that ensued following a smallpox scare. Well folks, this episode will also turn you into a blubbering mess, so get ready. If you've been looking for a good cry, you've come to the right place.
1. Making Moves
The midwives have new neighbors this week as Terry and Pearl Davidson settle into the neighborhood. Emigrating from Ireland, the couple has purchased a local newsstand to start the next chapter of their lives with their growing family. Upon their arrival, the couple meets Fred, the friendly face and welcoming committee that every newcomer needs, and are pleased to know he's already familiar with their shop.
2. The Birds and the Bees
As the Davidson family makes adjustments to their new home, Lucille also finds herself in unfamiliar territory. Having already conquered many complicated pregnancies during her short time on the job, she prepares for a new and slightly intimidating undertaking: teaching her first Health and Relationship class.
Despite the intimate nature of her work, Lucille is a tad nervous to discuss the human body with young girls and believes they should have such intimate conversations with their mothers. She's even more caught off guard when Valerie hands her a box of tampons, explaining that the girls in her class often inquire about them. Lucille exhibits a more reserved side on the matter and questions if it's necessary to provide this information to unmarried women. As classes begin, they have trouble seeing eye-to-eye on this issue.
3. A Tragic End
Moving day quickly turns into a nightmare for the Davidson family just hours after they arrive. As Pearl and her children set up the family business and move in their belongings, Terry makes a run to a nearby fish and chips shop for their first family dinner as Poplar residents. On his way home, he's distracted during an attempt to eat while driving and tragedy strikes when he fatally crashes into another vehicle backing out of an intersecting side road. After the accident, Tom steps in to deliver the painful news, meeting Pearl for the first time under horrific circumstances.
4. Operation Day
During Episode 4 of "Call the Midwife," Sister Monica Joan confirmed the dreaded truth that she has cataracts. Though she initially refused to go under the scalpel, preferring to take her chances with vision loss instead, in a moment of strength and with a little nudging from Fred she decided to proceed with an eye operation.
However, when she arrives at the hospital this episode, her fear of surgery resurfaces and she worries about the outcome of her procedure. To be fair, the thought of someone scraping at our eyeballs doesn't sound great to us either. This is reinforced when she meets her new hospital roommate, Maudie, a rambunctious woman who's not one to shy away from the gory details of her own cataract operation. Though Sister Monica Joan is usually quite the chatterbox herself, the two women are definitely not vibing.
5. A Mother's Complaint
As the education classes continue, Lucille still struggles to embrace Valerie's teaching methods. Even as a midwife, she can't help but feel embarrassed during their lesson on reproductive organs and is shocked at how easy it is for Valerie to answer some of the girls' detailed questions. Sex ed has and always will be super cringy, so we get it, but as it turns out, their differences in the classroom are the least of their worries.
After wrapping up their second class together, the two women are greeted by Maureen Walker, the mother of their student Elizabeth. Unaware that her daughter was taking a Health and Relationship class, she's furious when she realizes Elizabeth forged her signature to attend and denounces their teachings as filth. Later, Lucille and Valerie attempt to make amends during a visit to the Walker home, but to no avail. In her tirade against the class, Maureen says her sister was tarnished from exposure to similar knowledge in her youth, and she threatens to shut down their class.
6. Barbara Steps In
After Terry's accident, the Nonnatans step forward to help Pearl as she prepares for the birth of her third child. Barbara becomes her primary midwife and is there to comfort her when she eventually breaks down, overcome with grief. Pearl scraps her tough façade to reveal a more vulnerable side and acknowledges how frightened she feels without Terry by her side. Widowed with three children in a different country and responsible for running a new business on her own, she's at a loss.
7. Seeing the World Through Fresh Eyes
As Barbara consoles Pearl, we revisit Sister Monica Joan after her operation. When she comes to, she is pleased to know that not only is she still alive (thankfully, because our hearts can't handle two deaths an episode) but she also has some functioning eyes to prove it. Reversing roles, Maudie has quite the opposite reaction when she finally awakens after her surgery. Unable to see with the post-operative dressing covering her eye and with sandbags on either side of her to prevent her from turning, Maudie begins to panic. More chipper than ever, Sister Monica Joan encourages her to use her imagination to picture the wonders of the world as if they're in front of her. This helps calm Maudie and the two forge a bond over "visions" of food — as every good friendship starts.
8. She's Back
As all friendships go, pals Valerie and Lucille move beyond their differing values to tackle their issue with Maureen. Refusing to back down, Maureen goes so far as to berate the young women who attend the midwives' class and accuses Lucille and Valerie of corrupting their minds. Pretty fed up at this point (don't mess with her classes), Valerie pulls Maureen into a private room and questions her about her sister and their family history. Valerie learns that Maureen's parents sent Lily to reform school for her rebellious nature and she's stunned when Maureen admits she hasn't seen her sister since the day she was sent away. Valerie persuades her to find Lily because, despite their differences, she's still family.
9. Putting Out Fires          
Meanwhile, on their way home from a night out together, Nurse Crane and Barbara find themselves walking by the Davidson's property. As they're passing, Barbara notices what appears to be smoke coming from the shop and immediately calls the fire brigade. While she's doing this, Nurse Crane heroically jumps into action and breaks into the storefront so she can alert the family, who are unaware of the crisis below.
When Nurse Crane is finally able to alert them of the fire, she leads Pearl and her two children downstairs and through the store, which is now half ablaze. When a burning ladder falls into Nurse Crane's path, Barbara panics, but as soon as she sends the firemen in after her friend, Nurse Crane emerges from the business unharmed.
10. Found at Last
Maureen reflects on her conversation with Valerie and decides to look for Lily. She recruits Valerie to help her on her search, but when she discloses the name of the reform school that Lily was sent to, Valerie breaks the news that it wasn't a school, but a mental asylum. When Maureen visits the hospital, the nurse reveals a heartbreaking story behind Lily's mental state.
A nurse explains that when Lily was admitted, she was diagnosed with moral insanity for "exhibiting inappropriate sexual behavior," and was also pregnant at the time. Only 15, she was forced to give her child up for adoption. Piecing everything together, Valerie concludes that while Lily didn't suffer from mental health issues in her childhood, the pain of giving up her baby combined with living in the asylum her entire life drove her to mental illness. Maureen is overcome with guilt from this discovery, but unable to change the past, she apologizes to her sister. She promises to continue her visits with Lily and even eases up on her daughter Elizabeth.
11. Beyond a Cold
After an exhausting night saving people from fires, later delivering Pearl's baby girl and — surprise! —  a twin boy, while helping Fred restore Pearl's store (wonder woman am I right?), Barbara returns to her home for some well-deserved rest. However, it seems that "Call the Midwife" isn't going to let us off that easy. While she's home, Barbara begins to display signs of a cold and wakes up one morning with a fever. Soon, this is accompanied by a headache, a rash on her body and immobility of her neck. With an early diagnosis from Dr. Turner, the team determines that Barbara likely has septicemia, an infection of the bloodstream. They take her to the hospital and Tom and the others stand by as they wait to see what happens next.
Forgot how we got here? Catch up on Season 7, Episode 5. And don't miss our modern take on "Call the Midwife":The Modern Midwives Blog.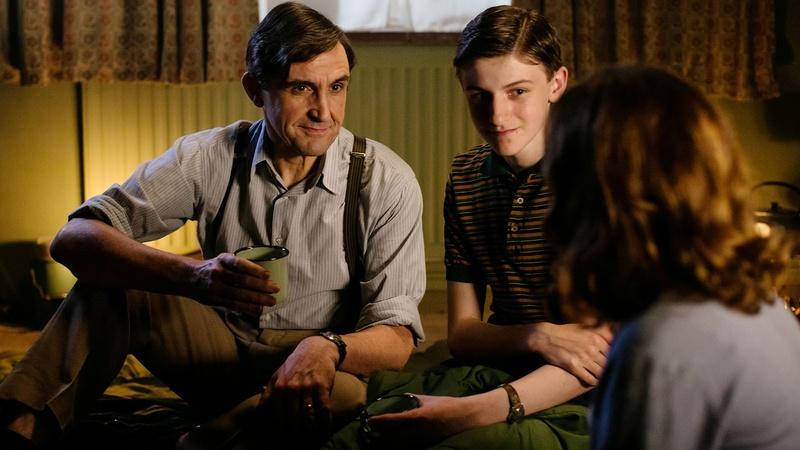 Cast and series creator discuss the show's universal appeal.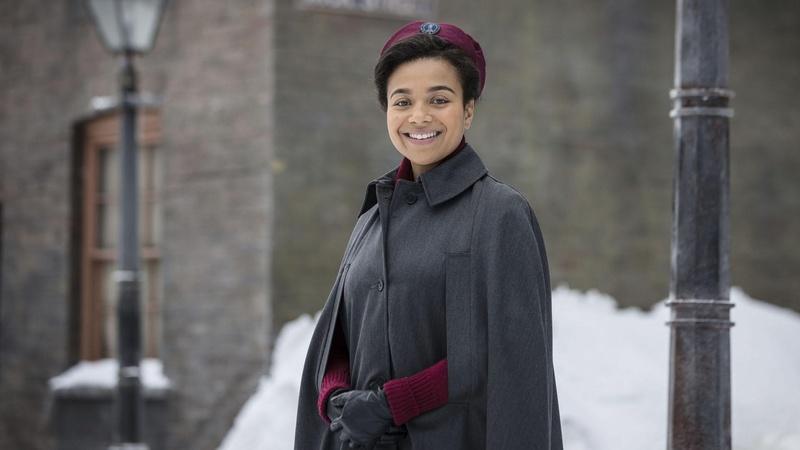 Meet the new arrival to Nonnatus house, Lucille Anderson, played by Leonie Elliott.