Sister Mary Cynthia
Formerly known as: Nurse Cynthia Miller
First appears: Season 1
Played by: Bryony Hannah
Sister Mary Cynthia has been at Nonnatus House for several years. When she joined as a midwife, she was known as Nurse Cynthia Miller.
Caring, stoical, and intelligent, she finds her midwifery work both challenging and rewarding, a highly desirable alternative to the dull domesticity that would otherwise be her only option. Quiet and sensitive, and also in her early twenties, Cynthia becomes Jenny's confidante and life-long friend.
Cynthia leaves Nonnatus on New Year's Eve 1959 to become a postulant at the Mother House in Chichester; Returning to Nonnatus as Sister Mary Cynthia.
Q&A with Bryony Hannah
What can you tell us about your character this series? What do you love about your character?
I love having swapped sides from being a midwife to being a nun. In some ways it's like having another job entirely because you get scenes with a different array of actors. Wearing the habit is very different, you just hear rustling. I now understand why the nuns are so grumpy!
Jenny and I have some lovely maternal and caring scenes together this series. In particular, Sister Mary Cynthia goes through a massive crisis because of something that happens to her. For the first time we see her get incredibly angry and it comes out in a scene with Sister Julienne. That's been difficult to play but enjoyable as well.
Cynthia's journey over the past 4-5 years mirrors my own, it's like we have a shared history. I look back at the girl I used to be and see how she's grown and it's the same for my character. In this series we see her much more self-possessed and she's really found her place in the world. She's confident and even takes on Sister Evangelina over a few things!
I hope that anyone who is quiet and unassuming, who just gets on the best they can and helps others, can see themselves represented in the nuns.
How does it feel to be a part of such a successful long-running show? Do you often get recognized on the street? 
I've been stopped a few times by people, mostly by men who are not afraid to say they watch it anymore. There are also young boys, 12 and 13 year olds, which I think is wonderful. Hopefully they will get more of an idea what their wife or partner will be going through in the future and be more supportive.
We are such a tiny cog in the wheel but it is amazing to see that the show has had such an impact on birth issues around the world. I watch it open-mouthed because it is really to do with Heidi and the scripts she writes, along with of course the job that midwives and mothers do. It really celebrates women.
It's also cathartic for lots of women and families to watch and finally be able to grieve or to deal with things they've had to sweep under the carpet. All in a safe manner, in their living room.
What do you think of Cynthia's costumes?
I've always loved my costume. Cynthia always has her buttons all done up very precisely and we hardly ever see her with her collar open. For a couple of series now I've been wearing a crucifix, that you probably wouldn't notice, but I like to know it's there. I'm a lot like Cynthia as I'm almost more comfortable in my uniform than I am in mufti - although Cynthia's got a slightly quirkier dress sense! Sometimes she wears some beautiful dresses hidden under a dowdy cardigan. I would wear some of her clothes, like her coat. Cynthia doesn't have too much money so we use a lot of her clothes repeatedly in different combinations. She is influenced by Trixie and as the series' have gone on she's become a little bit more adventurous. Last year she even wore slacks, which was great! But overall she's still very much Cynthia.
What are the differences between then and now?
I can't believe it's only 50 years ago! It feels so long in the past and it really does show us how amazing the NHS has been in helping women. But it's also more about the camaraderie and the community spirit. I wish there was more of that now but I actually think there still is in London these days. It reminds us to look after each other and pull together as women.
I just love the idea that the midwives were in the community running around on bicycles, it feels like that never happens these days. But we still have our health visitors and there is this network of amazing people really working and keeping our children safe. Sometimes it's a reminder of the past but sometimes it's a reminder of what's going on now as well.
How is music used in the show?
Music really conjures up a sort of optimism and I love all the montages where we tie things together over a score. It gives you just a little breath sometimes, particularly if it has been quite a heavy show. Often it is songs that you know and you don't realise that you know them! It's a little handshake to the past. I've been listening to a bit of Eartha Kitt as I've always been into that genre of music.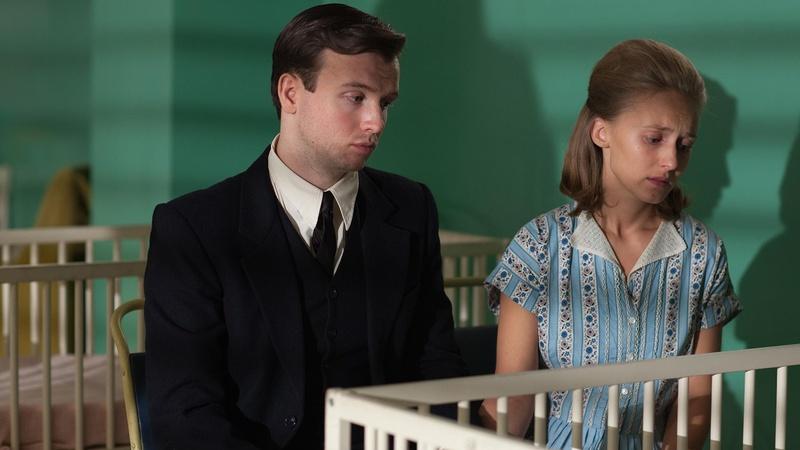 Call the Midwife
Witness the consequences of a Christian Science couple's refusal of medicine.